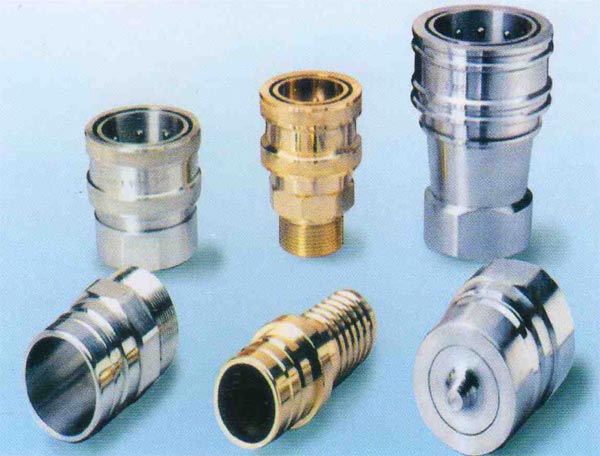 This works on simple 'Push & Pull Principle'. The adaptor when pushed into the coupler is securely held by the self locking arrangements resulting in a positive and leak proof connection. This action simultaneously opens the valve and fluid flow starts. To disconnect, pull back the sleeve of the coupler, the adaptor ejects out and the valve shuts off automatically. Valves are provided in GSV and GDV type.
GSV :  Quick coupling with self sealing valve at the coupler end and through type adaptor.
GDV : Quick coupling with self sealing valve at coupler & adaptor ends.
GT : Quick coupling through type.
Socket weld, hose thread, hose shank, pipe thread and flanged.
Size : 1/8" to 3"
Pressure : Upto 15000 psi.
Temperature :  (-25°C) to 250°C with right selection of body & material.
Fast positive, Leak proof instant connections, without tools, without threading or twisting, without strains, without sweat. Hence time saving.
Body
Mild Steel, Carbon Steel duly hardened, Brass, Aluminium. SS304, SS316, SS316L & exotic metals.
Spring
Spring Steel, SS304, SS316, SS316L (Exotic Metal spring available on client's request)
Ball
SS304, SS316, SS316L. (Exotic Metal balls available on client's request)
Seal Material
Nitrile, Neoprene, Viton, Silicon, PTFE.
Standard

ISO 7241 Series A & Series B
ISO 16028 for High Pressure Coupling
High Pressure screw to connect coupling as per ISO 14540
Note – If required for high pressure, High Temperature or corrosive services, we can also offer couplings in various exotic materials & seals like Inconel 625, Monel, Aluminum Bronze, etc. Fore more details please contact our technical department.